About UTTP
UTTP stands for Universal Time Token Protocol, and is a new time protocol intended for the general public. UTTP is an open proposal to the world to be used as the worlds central and authoritative time. Before UTTP, there has not been any adequate system in place to provide all the definable time zones, countries and geographies with a universal and authoritative reference point in time. While there are various time codes in place for programming and astrophysics, these protocols can only exist within their own specialized platforms, and cannot be used meaningfully by the general public. Using UTTP requires no platform, membership or subscription to use. For the general public, UTTP has been packaged into a usable framework where it can be used as a Universal Time Link. For scientific purposes, the specialized 10-character UTTP protocol space can be used to hold the smallest possible fraction of date/time, down to quintillienths of a second.

What makes UTTP so special?
The UTTP protocol produces a unique time token for every minute in time. The time token represents an unambiguous moment in time that can be universally recognized by any country or time zone, and decoded into any local time. This is important because this process allows everyone to not only have a globally recognized time token, but also a background process (ETZI) that automatically and authoritatively converts that time token to the local time of the device where it is used.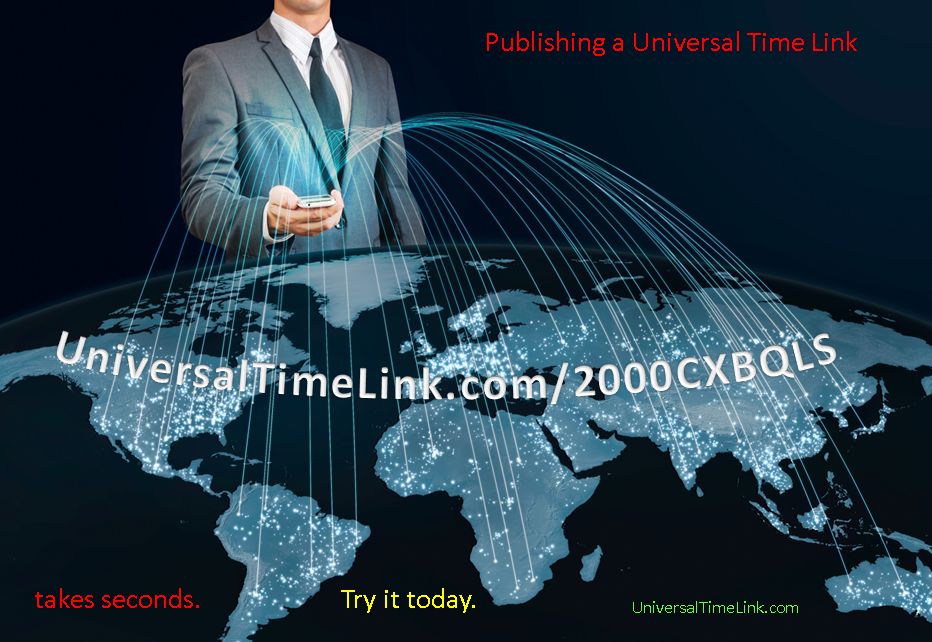 UTTP Time Resolution
Regarding time, only the global second is universal, but the minute is not, owing to some time zones being in different hours. Consequently, the UTTP protocol only defines time to a display resolution of one minute, and this is for two reasons: a) seconds will never be accurately available to the public on the domestic (internet) network  b) seconds are universal and available to anyone from their own source. For example, the 32nd second is the same second anywhere in the world, but to accurately define that second at its moment in time is actually quite difficult, owing to network latency, server and network architectures and various other factors. In other words, seconds are not important for what the UTTP protocol is designed for, which is for the general public, industry, government and all non-scientific time keeping and time expression. However, the UTTP protocol can, if required, carry seconds within its protocol space. There is also the means for the protocol space to hold a second value down to the quintillienth of a second, if required for scientific purposes.

The UTTP protocol will find many uses, and though the most popular will be as a Universal Time Link, there will be many needs such as for automated  database storage and retrieval of times, payroll systems, and journalism, to name just a few. The main advantage is that a Universal Time Link  or UTL can be expressed all over the world with the assurance that everyone in the world will get the correct time for an event.
When a UTTP time server receives a time token, it must actually decode that token twice: firstly from it's proprietary base30 value into UTC time, and then from that UTC time into the time zone of the LTR (Local Time Request). Though the LTR will normally come from a person just clicking a Universal Time Link, LTRs can also come from either an automated system, a satellite, an organizational time-stamping system (such as NASA) or other non-human sources. As the UTTP time protocol finds its usage, UTTP time servers will specialize in authoritative time-stamping for specific purposes such as for legal time stamping, media update time stamping or for military or space exploration.
By itself, the UTTP protocol is only a protocol, and has no encode/decode process. The very back-end of the Universal Time Link service is to automatically encode and decode the UTTP protocol for the ease of the average person who just wants to express or receive a Universal Time Link effortlessly.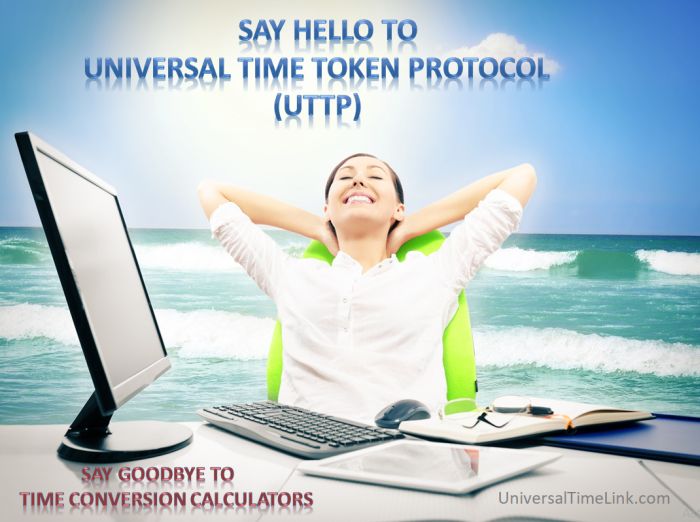 Universal Time Link is one derivative use of the Universal Time Token Protocol (UTTP), our first & smallest concept, code-named as project: Chronox. Initially designed as a quick fund-raiser, Chronox is now operational, giving the the world its first operating Global Time Zone, which provides the means to express time as a web link that will decode into the time zone in which it is clicked! We call this a Universal Time Link.
Man first stepped on the moon when? To know the exact second, which time zone zone do we use? This question is exactly what a Universal Time Link answers. There are two perspectives that a Universal Time Link can cover.
Example 1: Firstly, WHEN and HOW LONG ago the event happened is:
https://UniversalTimeLink.com/1969CQSWKW
With an additional message to explain what the UTL is about, it would be:
https://UniversalTimeLink.com/1969CQSWKW-This_is_when_we_fist_walked_on_the_moon-can_you_remember_this_moment–
Example 2: Secondly, how long to go until the next anniversary of the event is:
https://UniversalTimeLink.com/1969CQSW1T-50th_anniversary_moment_of_the_moon_walk_is_coming_up_soon_at_this_time
Creating a Universal Time Link takes 30 seconds tops, depending on the message you will include with the time link.
This means you can now tweet or otherwise express a time for an event to your global audience as a Universal Time Link. We believe that Universal Time Link is only a matter of time before it becomes globally popular. Publishing a Universal Time Link takes seconds, & remains independent of any platform or app. This means that time can now be easily expressed globally using a sender's local time while Universal Time Link will do the work of time zone conversions for all recipients. This means that the UTTP protocol has also created a new and non-destructive Global Time Zone.

UTTP  (Universal Time Token Protocol)
It is the UTTP protocol that makes many new things possible with time on a global basis. The UTTP protocol is platform-independent and is easily encoded and decoded by anyone, when used within a Universal Time Link. The UTTP protocol also makes time unambiguous and easily exchanged around the world between time zones. The protocol itself only holds an encoded time, control codes and signifiers, but the background process, ETZI (Elevated Time Zone Intelligence) does the smart work of calculating a given token for a given time zone while guarding against Daylight Savings Transitional Hour Anomaly. Does UTTP give us a true Universal World Time? Absolutely. It's here.