Universal Time Link
A Universal Time Link (UTL) is simply time as a web link that is universal. So no matter in what time zone a Universal Time Link (UTL) is clicked, it will convert instantly to the local time of the time zone it is in. A Universal Time Link is smart enough to calculate & adjust for daylight savings of the sender as well as the recipients, no matter what time zones they are in, & no matter when the Universal Time Link is for. So, you can now post a time for an event, such as your birthday, to your online audience in the form of a universal time link, that will reliably give everyone the time you intend. This means you do not have to use zone conversion calculators anymore. This innovation has been developed by Erthbeet Pty Ltd, Australia.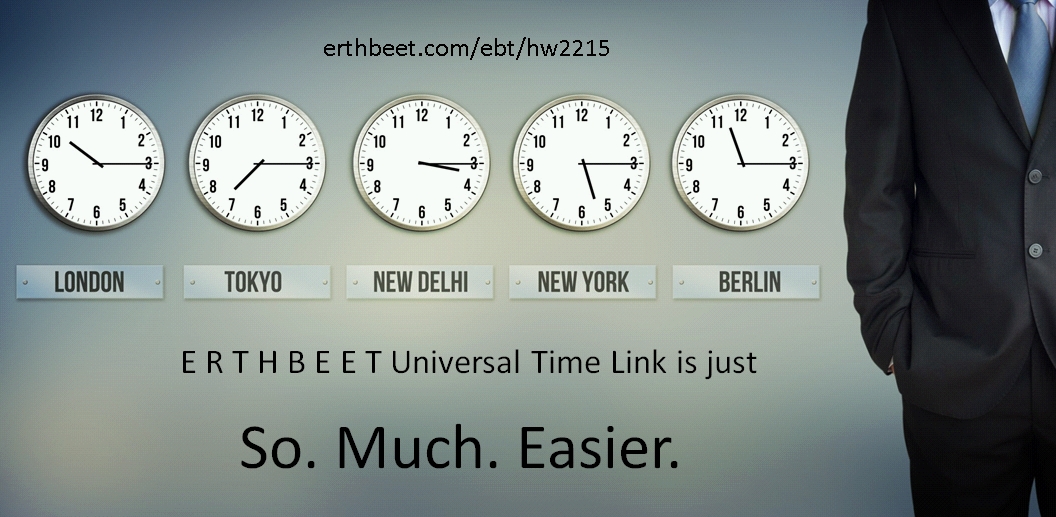 The Universal Time Link (UTL) for 20148S61KW is  UniversalTimeLink.com/20148S61KW. You can send UniversalTimeLink.com/20148S61KW out to a global audience & when any of your audience click this link, their own local time will be displayed. This makes Erthbeet's Universal Time Link not just universal time, but intelligent time. You may see a Universal Time Link (UTL) somewhee on the internet, such as:
"Neil Armstrong was the first man to walk on the moon, having set foot on lunar soil for the first time at UniversalTimeLink.com/1969CQSWKW"
The Universal Time Link (UTL) is not to be confused with web page field codes that auto-populate with local time. Web page field codes are 'dumb' compared with an Erthbeet UTL. An Erthbeet UTL is transferrable, mobile & quickly posted or published by anyone through any medium on the internet. A Universal Time Link (UTL) can be emailed, tweeted, facebooked, googled, written, yelled, morse-coded, carrier-pigeoned or televised. In other worlds, Erthbeet Time is smart, mobile & independent of any medium or platform. While there are several layers to Erthbeet Time, the Universal Time Link (UTL) innovation will clearly have the biggest impact for the world & the general public. 
Because the Universal Time Link (UTL) service makes time zone conversion effortless, recipients will tend to click a UTL immediately. What this means is that many UTLs will be clicked within seconds during times of world events or situations causing punctuated waves of Local Time Requests (LTR) coming into Erthbeet.com. The size of the waves will depend on the reason & importance of the time posting.
A more detailed look at Universal Time Link can be found here

.